Living, working and playing in Rockford, IL
Why Work at 13 WREX in Rockford, Illinois?
The station in Winnebago County is home to the award-winning television operation 13 WREX, an NBC affiliate serving viewers across northern Illinois and southern Wisconsin. The innovative team at 13 WREX is a leader in news, sales and marketing, with a strong commitment to community service.
In addition to the NBC-affiliate, we provide local viewers with a variety of other entertainment networks, including The Stateline CW, MeTV Rockford, True Crime Network, and CourtTV.
Our Workplace
When you join 13 WREX, the first thing you'll see is our state-of-the-art news studio. The set was launched in 2016 and is a feature that proves our commitment to quality journalism and storytelling.
But our focus on quality doesn't start and end in the news department. Whether you're joining our sales, engineering or production department, our commitment to excellence is just as strong. We invest in our people, because without good people, we can't serve our community to the fullest extent. If you want to learn, grow and succeed, we've got a job for you!
Our Approach to Journalism
13 WREX has been leader in providing quality news, weather and sports to the communities we serve for more than 65 years. Today, that commitment has never been stronger. Providing our viewers with stories that impact their daily lives is of paramount importance to our team, and that commitment will only continue to grow.
Our news team provides 27.5 hours of local news, weather and sports coverage every week and that doesn't include the countless special local programs our team has become known for in the Rockford market.
Speaking of the Rockford market, Nielsen says we are in market 139. Don't always believe what you read. The Rockford market is one of the epicenters of news in the Midwest. If you're looking for a place to work where you will always have a story to tell, Rockford is the place to be!
And while you're here, you might as well win some awards! Since 2015, the 13 WREX news and creative services teams have won more than 100 state, regional and national awards! Check out some of these accolades just since 2015:
2-time National Edward R. Murrow Award winner (2018 & 2020)
15-time Regional Edward R. Murrow Award winner
12-time Regional Emmy Award winner
4-time Outstanding News Operation winner from the Illinois AP
2-time Station of the Year winner from the Illinois Broadcasters Assoc.
Our History
13 WREX has been a fixture in the Rockford area since the early days of television. The station went on the air with a test pattern on September 18, 1953 and commenced commercial operations October 1, 1953. An application was filed in July 1952, by licensee, Greater Rockford Television, Inc., May 13, 1953.
The station's call letters were dedicated in memory to Rex N. Caster, the son of L.E. Caster, President of Greater Rockford Television, Inc. Rex Caster, 1st Lieutenant U.S. Army, was killed at St. Lo. France in 1944 during the Second World War. He was awarded the Silver Star Posthumously for gallantry in action. A plaque bearing his story still greets visitors at the entrance to the station today.
From the start of its operations, WREX was affiliated with the CBS and ABC networks. The station's original network affiliation was ABC-CBS Dumont. However in 1965, the station relinquished the CBS affiliation to WCEE and Dumont was eventually dropped. The station remained the ABC affiliate from 1954 until August 1995 when it became the NBC affiliate and purchased by its current owners, Quincy Media. By 2002, the station added a new channel number when it began broadcasting both digital (ch. 54) and analog (ch.13) signals.
Announced in January 2021, Quincy Media has been acquired by Gray Television, with the close of the sale expected later in 2021.
Why Live in Rockford, Illinois?
The Rockford, IL area is a great place to live, work and play. Rockford is home to a revitalized downtown which sits on the beautiful Rock River. And with a great downtown and great river, comes plenty of outdoor activities and one of the best food scenes a small midwestern town can offer!
Bet on Yourself
It's not often a small town can boast about numerous successful athletes on the professional stage, but the talent coming from Rockford is anything but small.
Toronto Raptors point guard, and NBA Champion, Fred VanVleet was born and raised in Rockford. VanVleet graduated from Rockford's Auburn High School and played college hoops at Wichita State before playing a starring role in Toronto's championship run in 2019. And no one supports their athletes the way Rockford does. During the Raptors' title run, downtown Rockford became "Jurassic Park RKFD." Hundreds of fans from across the area came to watch VanVleet and the Raptors win the NBA title at a watch party!
Rockford also is the home of Green Bay Packers defensive end Dean Lowry, Arizona Cardinals tight end Dan Arnold, and Jacksonville Jaguars running back James Robinson.
If you're a fan looking for some action in our area, we've got a great selection. Rockford is home to the Rockford IceHogs, the AHL affiliates of the Chicago Blackhawks. Just to our north, you can catch a minor league baseball game with the Beloit Snappers. And, of course, we're just 90 minutes from downtown Chicago where you can watch the Bulls, Bears, Blackhawks, Cubs and White Sox!
If you're a fan of college sports, Rock Valley College has one of the best junior college athletic programs in the country. Meanwhile, Northern Illinois University is just 45 minutes away!
You can't talk about Illinois sports without mentioning high school sports. From the home court to underneath the Friday night lights, Rockford is home to several stellar high school sports programs.
"Welcome to Rock-Food"
We mentioned this briefly above, but one sentence about the food scene in Rockford just didn't do it justice. When you come to Rockford, don't worry about eating at the same restaurants over and over again. If you do, you're doing it wrong! No matter what side of town you're on, your stomach will never go hungry. Prairie Street Brewing is one of our staff's favorite spots, especially because of its location on the banks of the Rock River.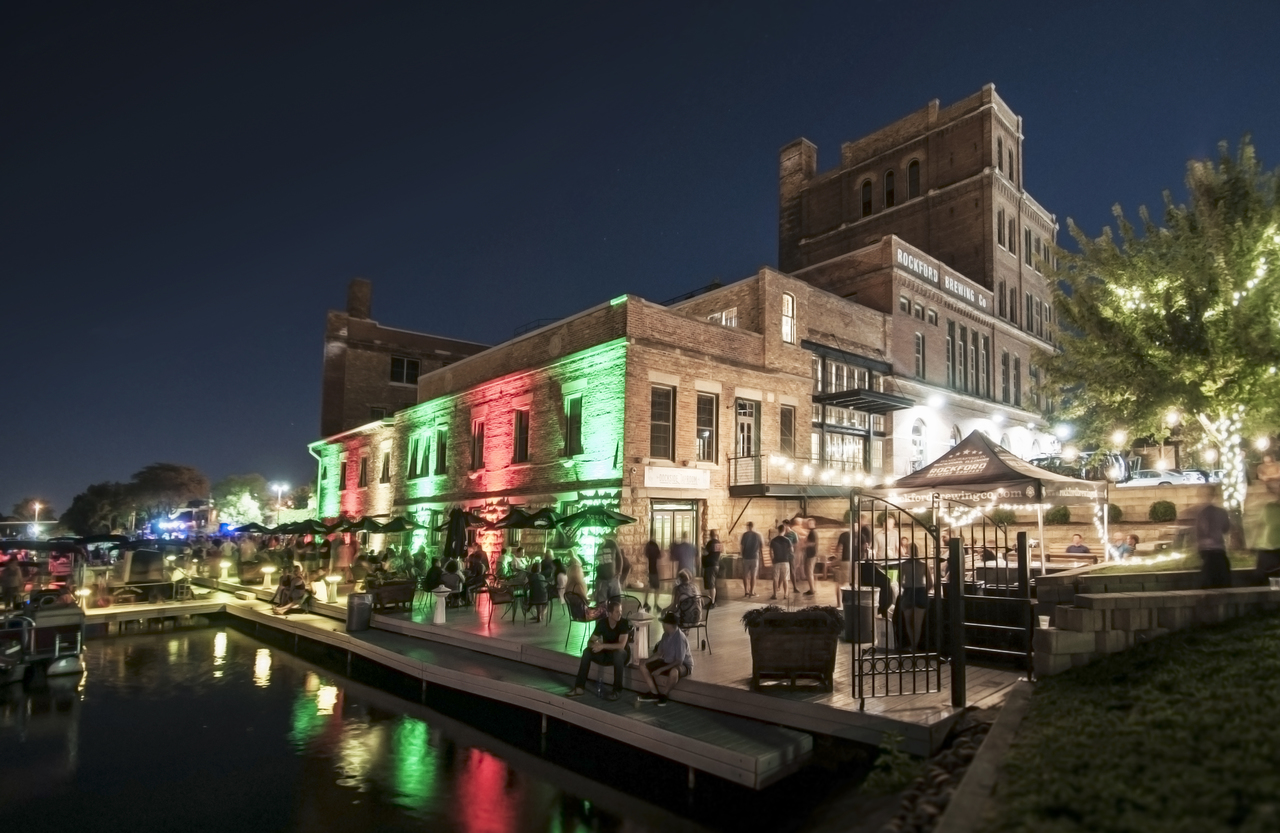 Markets, Festivals & Events
If you're bored in the Rockford area, we're sorry, we think that might be your fault. This area offers so much to do no matter what time of the year it is! And there are two events that top the list. Rockford City Market and Stroll on State. And wouldn't you know it, the team at 13 WREX plays a major role in both events!
Rockford City Market is a weekly market in downtown Rockford from May through September. It offers great vendors, from retail, to restaurants, to your traditional farmers market booths. It has become the place to be on Friday nights in Rockford. And yes, the 13 WREX is front and center at City Market. Our team broadcasts our entire 5 p.m. and 6 p.m. newscasts live from City Market each Friday evening!
The next major event is Stroll on State. This is the area's largest single-day event. On average, 75,000 people descend on downtown to kick-off the beginning of the holiday season. State Street is shut down for the entire day to vehicle traffic so residents can take part in the annual holiday celebration on the Saturday after Thanksgiving. And, once again, you'll find 13 WREX in the middle of it. Our team emcee's and broadcasts the annual Stroll on State parade!
Active and Healthy Living
Active lifestyles fit right into living in Rockford. We have the Rockford Park District, the Winnebago County Forest Preserves and the stunning Rock Cut State Park, just to name a few!
Rockford's award-winning parks system offers dozens of options for free outdoor fun, with dozens of parks and playgrounds for families to take advantage of. The Rock River is also a perfect place for kayaking, boating and other water sports. If you like to be active outdoors, Rockford, and its surrounding communities, have so much to offer!
Road Trips
Rockford is a great place to start a road trip! Fill up your tank and enjoy a day trip or weekend getaway. Here are just a few options.
Illinois
Chicago – 90 minutes
Champaign – 2 hours, 45 minutes
Springfield – 3 hours
Wisconsin
Madison – 1 hour, 20 minutes
Milwaukee – 1 hour, 35 minutes
Green Bay – 3 hours, 15 minutes
Iowa
Dubuque – 1 hour, 45 minutes
Iowa City – 2 hours, 40 minutes
Waterloo – 3 hours, 15 minutes
Indiana
Michigan City – 2 hours, 45 minutes
Indianapolis – 4 hours, 30 minutes